About Jones Livery & Ranch
We are Jerry and Carol Jones and have been working our ranch since 1991. We take pride in offering friendly, top-quality, full-service horse care. Stay with us once and you will see why so many of our clients return again and again.
Map and directions
Directions: Jones Livery & Ranch is located southwest of Cortez in McElmo Canyon. Road G is just south of Cortez adjacent to the DOT inspection station and intersects Highway 491/160. Turn west at the traffic light on CR G and travel just under four miles. Turn right at the Jones Livery sign and continue following additional signs to the main barn.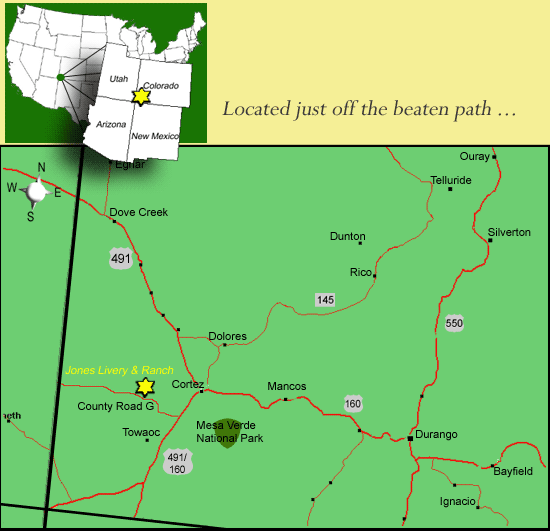 What our clients say
"As always, thanks for all you do for my horses." Mary, Colorado
"You guys are so great!" Steve & Shelly, Utah
"We wanted to give you two a great big THANK YOU again for all your hospitality and awesome care you gave our horses." Jeanette & Lonnie, Texas
"We always feel relaxed when we leave our horses with you. Thanks so much." Mike & Wanda, Idaho
"Your barn is so horse safe, and your personal attention to our babies is wonderful. Thanks again!" Donna, Oregon